Are you tired of painting roses, pears and drapery? Do you long for a fresh painting challenge? Have you ever wondered if the artifacts of modern industry could work in a traditionally painted still-life? In this workshop, you will explore the hidden potential of the mechanical world as still-life.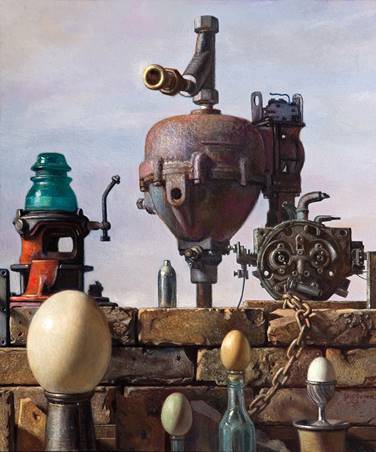 Here are some of the ways you can approach this theme:
1) The Appliance: If Chardin could take pottery or a saucepan-- the Ikea items of his day-- and transform them into something bordering on religious art, why not try this with the overlooked stuff of today's kitchen or garage? Grandma's old kitchen mixer has as much grunge and accretion of history as the noblest earthenware vessel -- so why not enshrine it in a painting? Variations can include the "iconic single subject" type of image, such as a formal portrait of a vacuum cleaner; or a "recipe" picture -- an ensemble of ingredients for a given recipe and the appropriate appliance for making it -- why not give that old coffee grinder a lead role, with milk, cream and sugar as supporting actors? There are as many possibilities as there are recipes, and no painter's kitchen is complete without a culinary-honoring still-life (or your Mom's kitchen, anyway)!
2) The Machine In The Garden. Few things are more Romantic than a ruin, and the industrial revolution gave us a new kind of landscape -- the decaying rustbelt factory. Here, you can make a little table-top diorama by mixing the organic (rocks, twigs, plants) with the inorganic (old car parts, simple nuts and bolts, railroad spikes), in order to create a still-life that is a modern landscape, cityscape, theatre, and still-life all at once. "Sky" backgrounds can be made with colored paper, or by colored light illumination -- why not an orange fluorescent bulb for a sunset sky? The explorations of deep pictorial space are possible here, and the simplest set-up can make for a convincing illusion of a real world.
3) The Machine Collage, or MERTZ painting: This theme is similar to the #2 above, except that the organic plays a lesser role or none at all. Who has not marveled at the strange beauty/ugliness of an electrical power station, with its tangle of wires, cables and insulators? Or, what about the strange, shiny world that exists inside of an old radio or television? All of these influences can be combined into fabulous Rube-Goldberg-like factories, or assembled to make fabulously fanciful skylines. Here, an old pot, if viewed from an odd angle, becomes a water tower, and a Christmas ornament atop an old bottle becomes a power station.
These possibilities await you in this intense yet fun class. Be ready to make a still life that opens new possibilities for your art!
Please click on Enroll Now to view the required supplies