This iteration of the Classical Atelier is reimagined from the Aristides Atelier. Juliette Aristides started the atelier program at Seattle's Gage Academy of Art where she served as Director of the Aristides Atelier from 1999 to 2022. This tradition of intensive instruction continues today with seven ateliers currently offered at Gage.
 
Location 
In-person at Gage Capitol Hill.
 
Tuition 
2023/24 Full: $9,650
 
Program Content & Objectives 
Led by Co-Directors Larine Chung and Paul Rosiak, the Classical Atelier is a full-time program dedicated to training students of all backgrounds to achieve the highest level of drawing and painting skills possible. The program is centered around working from life, and through one-on-one mentorship, demos, lectures, a strong sense of community, and a structured curriculum, students work towards mastery and gain the tools and confidence to find their voice through the language of visual art. 

The Classical Atelier is structured around working from the model every morning, Monday through Friday. In the afternoons, students work on curriculum projects under the guidance of instructors in their own dedicated studio spaces (within the building). Throughout the week students receive one-on-one critiques and coordinated mentorship from Co-Directors Larine and Paul, and teaching artist David Dwyer. In addition to this core training, students have the opportunity to participate in exhibitions throughout the year, reading and discussion groups, anatomy and art history lectures, plein air painting sessions, sculpture courses, additional portrait sessions in the evenings, and career-building tools.

The first year in the Classical Atelier is dedicated to drawing. Second year students learn to paint in grisaille, and then a limited warm-cool palette. Third Year students learn to master high-chroma color and the use of a full palette, and in their Fourth Year, students synthesize what they've learned and work with instructors to build a body of work. 

Admissions: Artists are accepted into the program with different levels of experience and training. The core belief of the program is that anyone can learn to draw and paint. Classical Atelier Directors give serious consideration to students regardless of their prior experience if they show a serious work ethic and a strong desire to learn in an atelier environment.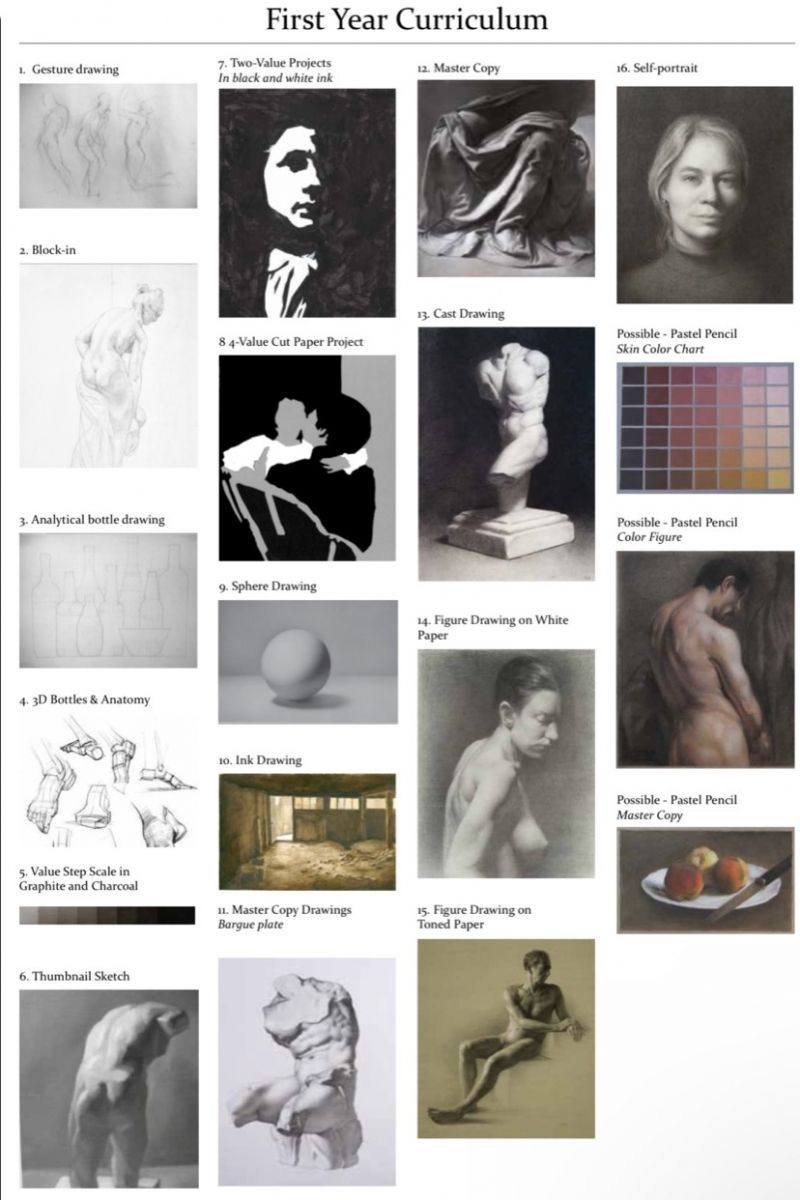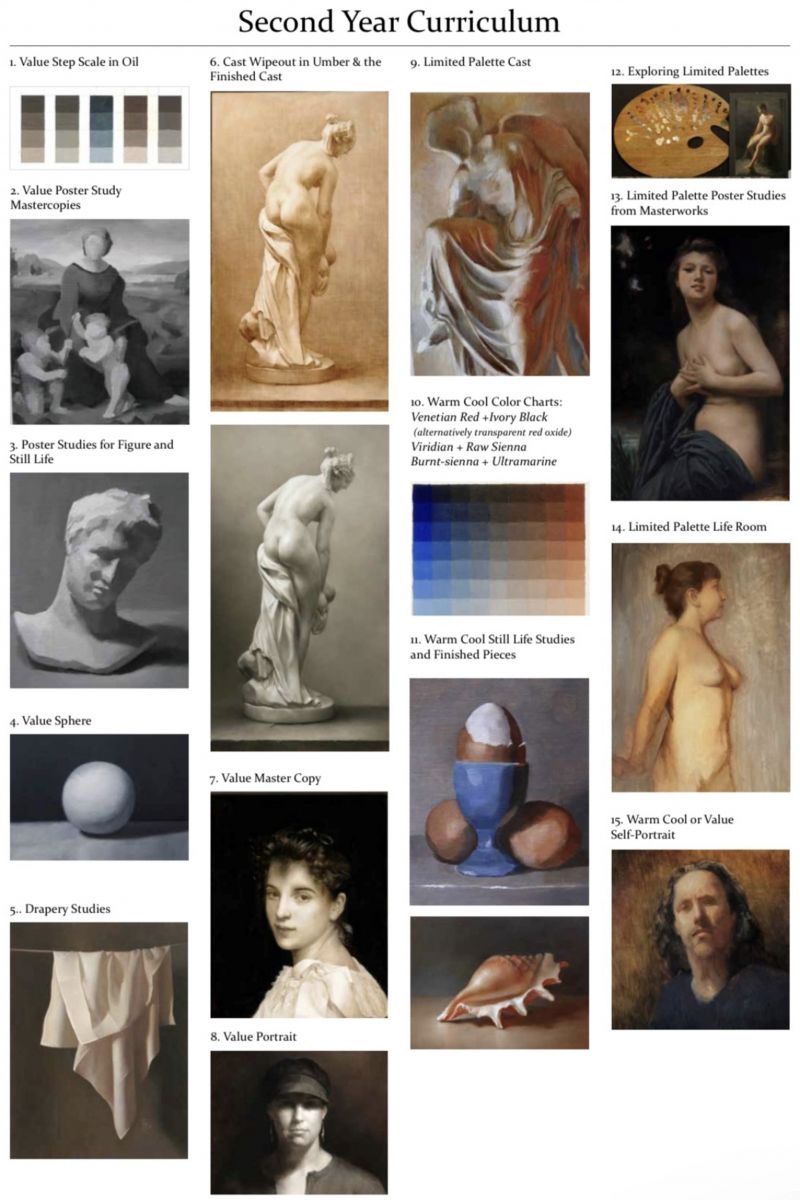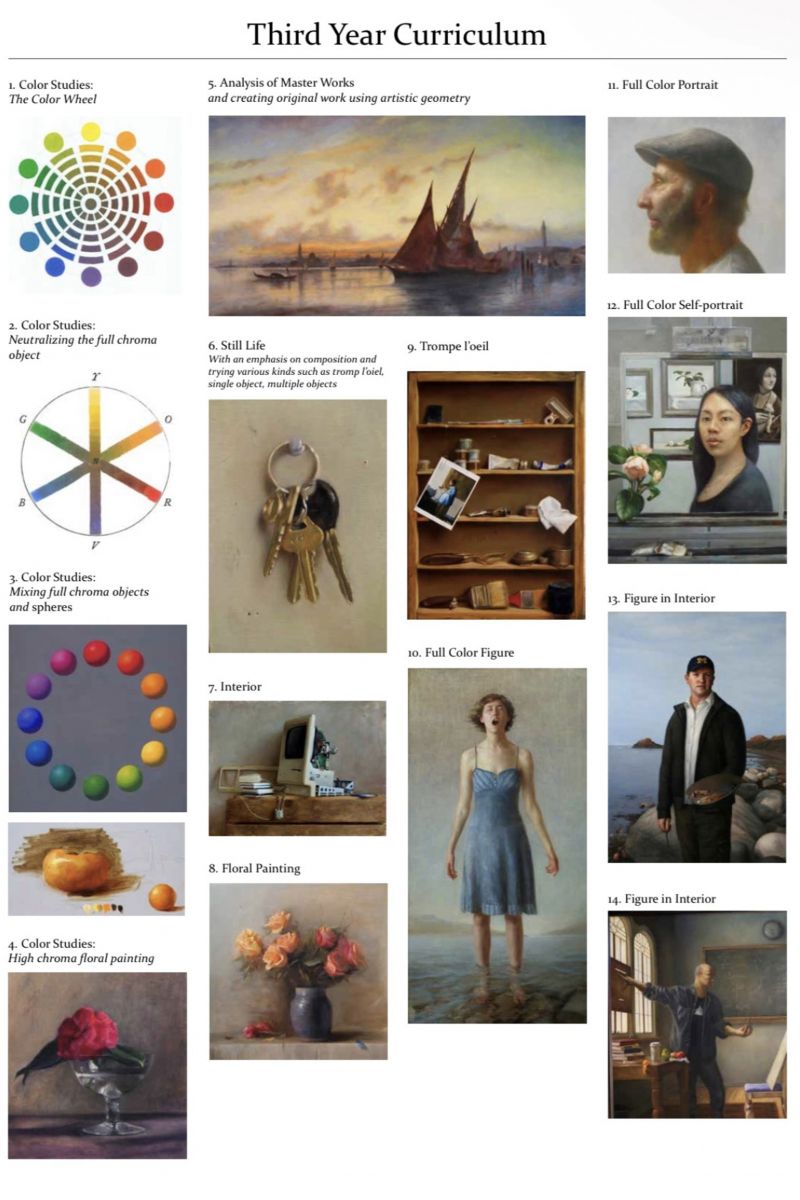 Larine Chung Teaching philosophy:
Atelier tradition is a time tested method in learning formal elements of art based on direct observation. Through systematic step-by-step teaching, in-depth analysis of master works and vigorous daily practice from life, students will learn how to use the formal elements of painting such as space, value, and color to depict the world around them. I truly believe that art is a language that can be taught and learned. Together with the team of excellent teaching artists at the Classical Atelier, the goal is to create a calm yet focused learning environment to aid students in mastering their technique and artistic vision.

Paul Rosiak Teaching Philosophy:
I believe that everyone can learn to draw and paint and I am passionate about helping students navigate the path towards mastery. I aim to guide and challenge students to achieve the highest level of fundamental skills they are capable of achieving. Yet, I believe that the atelier is also about far more than imparting technical skills; it encourages new, enriched ways of seeing the world, empowers creative expression, and fosters a strong sense of purpose and community. I aim to break complex tasks down into their component parts as clearly as possible, study them individually, and then show how to integrate these skills, engaging both the analytical and intuitive sides of the brain, all the while tailoring my approach to the unique needs of each individual student. My own experience as a student in the atelier and at Gage Academy was very meaningful to me, and I am thrilled and honored to now be working alongside an incredible team of artists and teachers to create a deeply meaningful educational experience for atelier students.
 
Time Commitment
Attendance is required Monday - Friday 9:30am - 4:30pm.
Fall: Start date in September.
Winter: Start date in January.
Spring: Start date in April.
Exact Start Dates TBD at instructors' discretion.